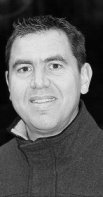 Richard graduated with a degree in Government and Politics. He joined PSD Group in 1996 as a Recruitment Consultant specialising in the mobile communications sector working on retained executive search assignments with organisations including Motorola and Nokia as well as some niche mobile consultancies.
In addition to his time focused on the mobile sector he helped establish a new sector for the company within purchasing and supply chain management. Following seven years with PSD Richard decided to leave to set up his own recruitment company within the purchasing area and working within the construction industry placing a range of professionals from company buyers through to supply chain directors.
Richard joined IMR Executive in 2013 to help further develop their involvement within the fields of cyber security and IoT markets and he works extensively across the EMEA region in particular. Helping clients hire key staff for a variety of positions, from Penetration Test Engineers through to senior leadership professionals, Richard has the experience and expertise to expedite the process and to help attract the best people.
Whilst Richard recruits broadly across the EMEA region it's worth mentioning that a lot of his recent experience has been focused on helping companies in the Middle East in particular.