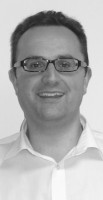 Since completing a degree in European Politics and Law, Ross has worked as an international head-hunter.  Initially working for Hunterskil Howard (part of the Wolsey Group plc) he led the establishment of their permanent recruitment division establishing an award winning investment banking practice.  The division became one of London's leading technical recruiters within the finance sector.
In 1996 Ross joined ERC group to establish their Banking division, targeting equity research and corporate finance within the establishing mobile industries.  This business area grew quickly, becoming a recruitment advisor to many investment banks, consultancies and FinTech firms at a time when the connections between mobile and banking were undeniably nascent.
ERC expanded internationally and rebranded as PSD Group. Ross was a part of the establishment of PSD group operations in Asia and across Europe and built the international Telecommunications practice.  During this period he became the companies youngest ever Director and winner of various awards relating to both personal and team financial performance.  During his tenure PSD Group expanded exponentially resulting in a successful listing on the London Stock Exchange.
Ross became a founding Partner in the establishment of IMR Executive In 2004, an organisation focused on the Mobile Entertainment sector. Since its inception IMR has taken a central role in the recruitment of specialists for organisations targeting digital consumer engagement.  Initially focused on the Mobile industry IMR's reach is now much broader and covers digital markets in which technologies and commerce channels have converged.
Over the last decade Ross and IMR have supported an increasingly broad range of sectors in their development of engaging consumer experiences and how to monetize them. Working with Technology providers, Marketing organisations and Brands to engage their customers either totally or in-part through numerous digital channels.
As a result Ross has taken part in many industry events and judging panels.   IMR has also been recognised by their clients and partners on multiple occasions including being the recipient of Mobile Entertainment Award for Best Recruitment.